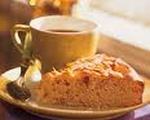 Prep: –
Cook Time: 25 min
Total: 25 min
Serving: Serves 8
Breakfast cakes are a delicious and convenient alternative to elaborate, time-consuming breakfasts. They are also a heartier and healthier option compared to toaster pastries or other pop in the toaster breakfast foods.
Once you have a breakfast cake baked, you can simply slice and serve with fruit and yogurt. Set aside a little time on Sunday to bake one or two breakfast cakes and you'll have your family well-fed in the morning for most of the week.
The following breakfast cakes are studded with nutritious ingredients and come together in 30 minutes or less.
Ingredients
1 cup all-purpose flour
1/2 cup blanched almond flour
1/2 cup granulated sugar
1/2 cup slivered almonds
2 teaspoons baking powder
3/4 teaspoon salt
1/4 cup plain yogurt
1/4 cup butter, melted
2 large eggs, lightly beaten
1 1/2 teaspoons pure almond extract
Directions
Preheat oven to 350 degrees F. Grease a 9-inch round cake pan.
In a large bowl, stir together flours, sugar, almonds, baking powder, and salt. In a second bowl, whisk together yogurt, butter, eggs, and almond extract. Add wet ingredients to dry ingredients and stir until just combined.
Spoon the batter into a prepared cake pan. Bake for 20 to 25 minutes, or until a wooden pick inserted in center comes out clean. Cool cake in pan for 10 minutes on a wire rack. Invert onto a cutting board, slice and serve. If making ahead, invert and allow to cool completely on wire rack.