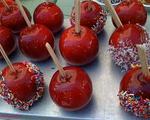 Prep: 15 min
Cook Time: 10 min
Total: 25 min
Serving: 8
Everyone loves candied apples for Halloween, but they aren't low in sugar. Try this healthier alternative to a traditional candied apple recipe. They can be stored for up to three days in an airtight container.
Ingredients
8 Red Delicious apples, stemmed
1 cup sugar
1/3 cup light-colored corn syrup
1/3 cup water
1/3 cup cinnamon decorator candies (such as Red Hots)
1/4 teaspoon ground cinnamon
Cooking spray
1 cup sprinkles or other topping, optional
Directions
Line a large baking sheet with foil and coat with cooking spray. Insert 1 lollipop or wooden craft stick into stem end of each apple.
In a small heavy saucepan over medium heat, combine sugar, corn syrup, water, cinnamon and candies. Cook until sugar dissolves, stirring occasionally. Then continue to cook, without stirring, until a candy thermometer registers 300 F (about 8 minutes). Remove from heat.
Hold one apple at a time by its stick and dip in the syrup. Be sure to tilt the pan to cover the entire apple. Turn apple quickly and coat evenly. Allow the excess syrup to drip back into pan. If desired, spread sprinkles or another topping in a shallow dish and dip to coat. Place apple, dowel side up, on prepared baking sheet to harden (about 5 minutes).