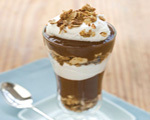 Prep: 25 min
Cook Time: –
Total: 25 min
Serving: Makes 2 tall glasses
Impress your friends with this easy dessert after your next dinner. Top with sugared toasted hazelnuts for added flavor.
Ingredients
1/4 cup chopped hazelnuts
1/2 teaspoon sugar
1/3 cup chocolate chips
2 tablespoons half-and-half cream
2 tablespoons whipped cream cheese
2 teaspoons brown sugar
1/2 cup coffee-flavored yogurt
1/4 teaspoon vanilla
2/3 cup whipped topping
2 chocolate graham crackers, crushed
Directions
In a skillet, cook hazelnuts over medium heat until toasted, stirring constantly. After 4 minutes, sprinkle with sugar and cook for 2-4 minutes or until sugar is completely melted.
Spread nuts onto foil to cool.
Melt chocolate chips and cream in a saucepan over low heat; stir until thoroughly melted.
Remove from heat, then cool to room temperature.
Mix together cream cheese and brown sugar. Add yogurt, vanilla and whipped topping.
In two parfait glasses, layer graham crackers, yogurt mixture, chocolate mixture and hazelnuts.
Chill in refrigerator.