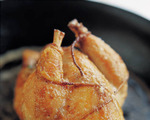 Prep: 20 min
Cook Time: 1 hr 45 min
Total: 2 hr 5 min
Serving: 6
Flavored with soy sauce and sweetened with pineapple, Hawaiian Chicken Wings will make everyone say, "Aloha!"
Ingredients
1/2 cup cornstarch
1/2 cup flour
1 egg, beaten
2 pounds chicken wings, disjointed
1 tablespoon soy sauce
1/2 teaspoon monosodium glutamate, optional
3/4 cup sugar
4 tablespoons ketchup
1/4 cup chicken broth
1/2 cup vinegar
1/2 cup light corn syrup
1/2 cup crushed pineapple, drained
Directions
Combine cornstarch and flour in bowl. Beat egg with 1/2 tablespoon water in small bowl. Dip wings in flour mixture, then into egg mixture. Fry wings in hot oil until brown, turning once.
Place in a baking dish. Combine remaining ingredients in saucepan, blending well. Bring to a boil and pour over chicken wings.
Bake at 350 degrees F for 1 1/2 hours.