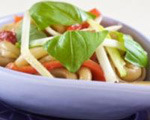 Prep: 10 min
Cook Time: 8 min
Total: 18 min
Serving: 4-6 People
Boring old macaroni salads can be left in the fridge. This Hawaiian-themed macaroni salad will be a fan favorite at any picnic, dinner, birthday party or barbecue. Giving this dish a little punch are peppers and onion, but adding some tangy pineapple and sweet dressing makes this one snappy salad.
Ingredients
2 cups elbow macaroni
4 cups water
1 teaspoon salt
1/3 cup mayonnaise
4 tablespoons soy sauce
2 tablespoons sugar
1/2 cup crushed pineapple, drained (save 4 tablespoons juice)
2 tablespoons white vinegar
1/2 cup red bell peppers, diced
1/2 cup sweet onion, chopped
1/2 cup frozen snow peas, thawed and sliced into bite-size pieces
2 tablespoons toasted, flaked coconut
Directions
Pour water into large saucepan and bring to a boil (adding salt).
Toss in the macaroni and cook for about eight minutes or according to package directions. Drain and set aside to cool.
In a large mixing bowl, whisk together mayonnaise, soy sauce, sugar, pineapple juice, and vinegar. Pour over cooked macaroni and stir until well dressed.
Fold in pineapple chunks, peppers, onion and snow peas.
Spoon into serving dish and sprinkle with coconut and serve chilled or warm.