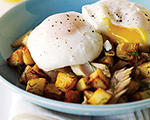 Prep: 15 min
Cook Time: 14 min
Total: 29 min
Serving: 4 Servings
Smoky and salty trout, adds a distinctive addition of flavor to this traditional recipe for hash. Top with 2 poached eggs for a delicious and hearty breakfast.
Ingredients
3 ounces smoked trout fillet, skinned and deboned
2 teaspoons canola oil
6 scallions, chopped
4 cups diced cooked potatoes or frozen hash-brown potatoes
1/2 cup low-fat milk
3 tablespoons chopped fresh dill, divided
Salt & freshly ground pepper to taste
2 tablespoons reduced-fat sour cream
Directions
Pace the oil in a large skillet and heat over medium-high heat.
Add the scallions and sauté for 2-1/2 minutes, and then stir in the potatoes and sauté for 8 minutes until browned.
Pour in the milk and continue to stir the mixture for 2 minutes, scraping any browned bits form the bottom of the pan.
Add the trout, 2 tablespoons of the dill, salt and pepper and cook for 1 additional minute.
Transfer the hash to plates, top with the sour cream and remaining dill, and serve at once.