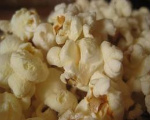 Prep: 10 min
Cook Time: 10 min
Total: 20 min
Serving: 2 1/2 quarts
Hearty, snack popcorn. Wonderful fall treat.
Ingredients
1/3 cup melted butter
1 teaspoon dill weed
1 teaspoon Worcestershire sauce
1 teaspoon lemon pepper
1/2 teaspoon onion powder or onion salt
1/2 teaspoon garlic powder or garlic salt
1/4 teapoon salt
2 quarts fresh popcorn
2 cups shoestring potatoes
Directions
Preheat oven to 350 degrees Fahrenheit.
Stir everything but the popcorn and potatoes together.
Mix the popcorn and potatoes together in a large bowl. Pour the butter mixture over and toss until well coated.
Spread onto a baking sheet and bake for 8-10 minutes, stir once.