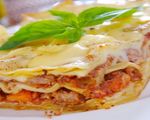 Prep: 20 min
Cook Time: 55 min
Total: 1 hr 15 min
Serving: 8
When the weather takes a chilly turn and a warm hearty meal takes priority, this beautiful lasagna will be at the top of your dinner list.
Ingredients
1 (2 pound) butternut squash
Salt to taste
Black pepper to taste
2 teaspoons olive oil, divided
2 garlic cloves, minced
1 shallot, finely chopped
8 ounces baby spinach leaves, washed, drained but left damp
1 (16 ounce) container lowfat cottage cheese or part-skim ricotta
1 tablespoon finely chopped fresh oregano or 1 teaspoon dried
¼ teaspoon freshly grated nutmeg
½ teaspoon cinnamon
1 ½ pounds red chard, stems removed, coarsely chopped, washed but left damp
Pinch of salt
Black pepper to taste
1 (28 ounce) jar of spicy marinara sauce
8 ounces uncooked whole wheat lasagna noodles (12 to 16 noodles)
1 cup shredded Fontina cheese
Directions
With a knife or fork, poke holes or small slits all over squash.
Place on a microwave-safe plate and microwave on HIGH for 5 to 6 minutes or until a knife inserts easily into the skin.
Cut in half and, using a spoon, remove seeds.
Let stand for 5 minutes or until cool enough to handle.
Peel with a sharp knife and cut into thin slices. Season with salt and black pepper and set aside.
Preheat oven to 350 degrees F. and spray a 13 x 9 x 2 inch baking dish with nonstick cooking spray.
In a large nonstick saucepan, heat oil over medium-high heat.
Cook garlic and shallot, stirring frequently, until soft, about 3 to 4 minutes.
Add spinach and cook, stirring, until wilted, about 3 to 4 minutes.
Transfer spinach and any liquid to a medium-sized bowl to cool slightly.
Stir in cottage cheese, oregano, nutmeg, and cinnamon.
Set aside.
In the same saucepan, add chard and season with salt and black pepper.
Press down and stir with a spatula for a minute or two.
Cover and cook until wilted, stirring occasionally, and adding a tablespoon or more of water if pan gets dry, about 5 to 6 minutes.
Set aside.
Pour ½ cup marinara on the bottom of the baking dish, using the back of a spoon to evenly spread.
Lay 3 to 4 noodles in sauce.
Spread ½ of the cottage cheese mixture on noodles. Layer with butternut squash.
Lay 3 to 4 noodles on squash and cover with sauce, using the back of a spoon to evenly spread.
Cover with chard and spread remaining cottage cheese mixture on top.
Cover with remaining noodles and pour remaining sauce on top.
Sprinkle with Fontina cheese.
Spray a large piece of foil with nonstick cooking spray and tightly cover dish.
Bake until sauce is bubbly and noodles are tender, about 50 to 55 minutes.
Remove foil and cook for 5 to 10 minutes more to brown cheese.
Remove from oven and let stand at least 15 minutes before cutting.
Serve warm.