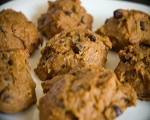 Prep: 10 min
Cook Time: 15 min
Total: 25 min
Serving: Makes 2 dozen cookies
These spiced cookies make a cozy afternoon snack, especially alongside a hot cup of coffee or apple cider.
Ingredients
1 egg
1 cup brown sugar
1/4 cup applesauce
1 cup canned pumpkin
1-1/2 cups flour
1/2 cup oat bran
1 teaspoon baking soda
1 teaspoon baking powder
1 teaspoon cinnamon
1/2 teaspoon nutmeg
1/4 teaspoon salt
3/4 cup raisins
1/4 cup chopped nuts
1 cup unpeeled apple, finely chopped
Directions
Cream egg, brown sugar, applesauce and pumpkin; set aside.
Combine flour, oat bran, baking soda, baking powder, cinnamon, nutmeg and salt.
Blend flour combination into pumpkin mixture.
Fold in raisins, nuts and apple.
Drop by teaspoon onto prepared baking sheets.
Bake at 350 degrees for 12-15 minutes.