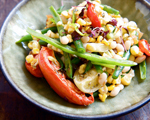 Prep: 20 min
Cook Time: 1 hr
Total: 1 hr 20 min
Serving: Serves 4
Dried beans are on average twice as rich in protein as grains, and especially rich in iron and the B vitamins. This dish provides both nutritional value without sacrificing taste.
Ingredients
1 cup dried haricot beans, soaked overnight
2 cloves garlic, crushed
2 tablespoons wine vinegar
2 tablespoons olive oil
1 teaspoon French mustard
salt and freshly ground black pepper
1 red pepper, seeded and thinly sliced
1 leek, thinly sliced
2 spring onions, chopped
Directions
Put beans in a large pot and bring to a boil. Boil for 10 minutes. Reduce heat, cover and simmer for 50 minutes. Drain the beans.
In a small bowl combine garlic, vinegar, olive oil, mustard and seasoning. Whisk ingredients until well blended.
Pour the vinaigrette over the hot beans and mix well. Add the pepper, leek and spring onions. Mix the salad and put into a serving dish. Garnish with a few chopped onions.