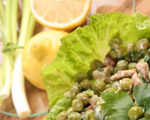 Prep: 2 hr 10 min
Cook Time: 10 min
Total: 2 hr 20 min
Serving: 4 Servings
For a non-vegetarian version of this egg and pea salad, add cubed pieces of smoked ham or prosciutto.
Ingredients
1 (10 ounce) package frozen peas
2 hard-boiled eggs, chopped
1/4 cup green onions, sliced
1/2 cup celery, diced
1/3 cup mayonnaise
1 tablespoon Dijon mustard
1/2 teaspoon garlic salt
1/4 teaspoon pepper
Directions
Cook the peas 2 minutes less than the time stated on the package's directions, rinse with cold water and then drain well.
In the meantime, combine the mayonnaise, mustard, salt and pepper in a large bowl.
Transfer the peas to the bowl with the mayonnaise mixture and then add the egg, onion and celery. Toss the mixture gently to combine and then cover and refrigerate for at least 2 hours prior to serving.