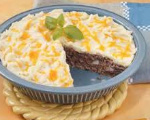 Prep: 20 min
Cook Time: 40 min
Total: 1 hr
Serving: 6-8 servings
Mashed potatoes and meatloaf disguised under a cheesy smile.
Ingredients
1 pound lean ground beef
1 cup shredded zucchini
1/4 cup ketchup
2 cups whipped potatoes
1/2 cup shredded cheddar cheese
2 pickles, sliced
Ketchup and mustard
Directions
Preheat the oven to 350 degrees Fahrenheit.
Combine the beef, zucchini and ketchup. Press into a 9-inch cake round. Bake for 30-40 minutes. Remove from the oven and drain the excess fat.
Frost with the whipped potatoes.
Use the cheese as hair around the edge. Make a face using the pickles, ketchup and mustard.