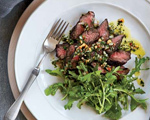 Prep: 15 min
Cook Time: 12 min
Total: 27 min
Serving: 8 servings
Hanger steak, also known as butcher's steak, is a cut of beef that is prized for its excellent flavor. Enjoy it thinly sliced and topped with a tangy and fresh herb and hazelnut salsa.
Ingredients
1/4 cup hazelnuts
1/2 cup minced flat-leaf parsley
1/4 cup snipped chives
2 teaspoons minced tarragon
1 teaspoon minced chervil
2 oil-packed anchovy fillets, minced
2 teaspoons chopped rinsed capers
1 medium shallot, minced
2 tablespoons sherry vinegar
3/4 cup extra-virgin olive oil, plus more for brushing
Salt and freshly ground pepper
2 trimmed 1-pound hanger steaks
Directions
Preheat your oven to 375 degrees and prepare a grill over medium heat.
Place the hazelnuts on a pie plate and toast in the oven until their skins are blistered. Remove the nuts from the oven and place on a clean towel. Rub the hazelnuts vigorously to remove their skins and then coarsely chop with a sharp knife.
Put the chopped hazelnuts into a bowl and then add the parsley, chives, tarragon, chervil, anchovies, capers, shallot, vinegar, 3/4 cup oil and a few pinches of salt and pepper. Stir the mixture well to combine and then set aside.
Brush the steaks on both sides with olive oil and then sprinkle thoroughly with salt and pepper. Place the meat on the grill and cook for 6 minutes then flip and cook for an additional 6 on the other side. Transfer the meat to a cutting board and let rest for 5 minutes before slicing across the grain into thin strips. Serve immediately topped with the prepared hazelnut salsa.