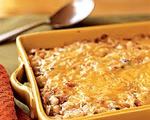 Prep: 20 min
Cook Time: 40 min
Total: 1 hr
Serving: 4 servings
Low-fat creamy ham and potato casserole.
Ingredients
4 slices fat-free ham luncheon meat, cubed
1 (24 ounce) package Oreida frozen potatoes O'Brien, thawed
1 (8 ounce) package fat-free cream cheese, softened
1 (4.5 ounce) can chopped green chiles
Directions
Preheat the oven to 400 degrees Fahrenheit. Mix together the cream cheese and green chiles. Combine all the ingredients together, stirring until well mixed.
Pour into a greased casserole dish and bake for 40 minutes. Season with pepper, to taste.