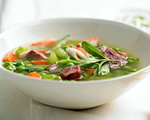 Prep: 10 min
Cook Time: 20 min
Total: 30 min
Serving: 4 Servings
A delicious blend of ham and peas make this soup a winner. Serve with a squeeze of lemon and a dollop of Greek yogurt.
Ingredients
6 ounces ham (1 cup), cut in bite-sized pieces
2 teaspoons olive oil
12 ounces fresh peas or one 10-ounce package frozen baby peas
2 cups water
1 14-ounces can reduced-sodium chicken broth
2 medium carrots, sliced 1/4-inch thick
2 stalks celery, sliced 1/2-inch thick
1 bunch green onions, bias-sliced
1 tablespoon snipped fresh tarragon, or 1/2 teaspoon dried tarragon
Directions
Place a large sauté pan over medium heat and add the olive oil.
Once the oil begins to shimmer, add the ham and cook for 3 minutes without stirring, then stir and cook for an additional 3 minutes.
Stir in the peas, water, broth, carrots, celery, green onions, and tarragon, and bring the mixture to a boil.
Once boiling, reduce the heat to medium-low and simmer the mixture, covered, for about 10 minutes. The carrots and peas should be tender.
Ladle the soup into bowls and serve hot.