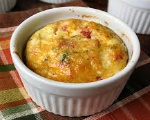 Prep: 15 min
Cook Time: 20 min
Total: 35 min
Serving: 2 servings
Much better than just a sandwich, delight your kids with this fancy breakfast.
Ingredients
1 (6 ounce) can chunk-style ham
2 tablespoons fine dry bread crumbs
6 tablespoons skim milk
4 eggs, 1 separated
2 tablespoons margarine
Vegetable oil spray
Directions
Preheat the oven to 350 degrees Fahrenheit. Coat two 1-cup casserole dishes with the cooking spray.
Flake the ham and add to a bowl. Mix in the bread crumbs, 2 tablespoons of milk and the egg white.
In a separate bowl, mix together the remaining eggs and milk.
Melt the margarine in a skillet, add the egg and milk mixture and cook until partly set.
Add 1/4 cup of the ham mixture to both casserole dishes. Pour the egg mixture evenly over both dishes. Top with the remaining ham mixture, pressing down lightly.
Bake for 15-20 minutes, or until heated through. Carefully remove and set on a serving plate.