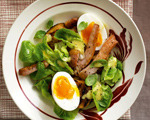 Prep: 5 min
Cook Time: 3 min
Total: 8 min
Serving: 4 Servings
Strips of broiled ham steak and softly boiled eggs are placed on top of a bed of lettuce and fresh basil, and then drizzled with a decadent butter and egg yolk sauce to make this delicious salad.
Ingredients
2 ham steaks
Lettuce leaves, for garnish
Basil leaves, for garnish
8 slices baguette, toasted
4 large eggs, softly boiled and halved
6 tablespoons butter
juice of 1 lemon
2 free-range egg yolks
1 clove garlic, crushed
Sea salt and freshly ground black pepper
Directions
Preheat your oven broiler.
Put the ham steaks onto a baking sheet and then place in the oven for18 minutes, flipping once halfway through the cooking time. Remove the ham from the oven and slice into strips.
In the meantime, divide the lettuce, basil and baguette between 4 serving plates.
Place the butter into a small saucepan over medium heat. Once melted, add the lemon juice, egg yolks, garlic and a few pinches of salt and pepper and whisk well for 2 minutes until thoroughly combined.
Place the strips of ham and the boiled eggs onto the beds of lettuce, and then drizzle with the prepared butter sauce. Season the salad with salt and pepper and then serve immediately.