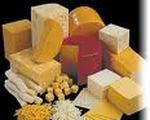 Prep: 15 min
Cook Time: 20 min
Total: 35 min
Serving: 4
Served hot these Ham and Cheese Sandwiches with Mustard Sauce will become a family favorite.
Ingredients
1/4 pound butter, softened
2 tablespoons mustard, sharp
1/2 pound ham, sliced
1/2 pound Swiss cheese, sliced
4 Hard rolls
Directions
Add mustard to butter mix well. Spread both sides of a hard roll with mustard mixture.
Place a slice of ham and Swiss cheese on each roll. Wrap in foil and bake at 350 degrees F for 20 minutes.