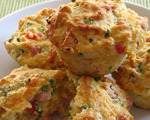 Prep: 10 min
Cook Time: 20 min
Total: 30 min
Serving: Makes 6 large muffins
This recipe for ham and cheese muffins proves that savory-style muffins are just as delicious for breakfast as the sweet variety.
Ingredients
1-1/2 cups flour
1/3 cup parmesan cheese
1/3 cup diced ham
1/4 cup finely chopped red pepper
1/4 cup finely chopped green onion
2 teaspoons baking powder
2 teaspoons thyme
1 teaspoon sugar
1/4 teaspoon salt
1/4 teaspoon fresh pepper
1 cup milk
1/3 cup olive oil
1 egg
1/4 cup shredded cheddar cheese
Directions
Preheat your oven to 375 degrees F and grease a 6 cup muffin tin with butter or oil.
Place the flour, parmesan, ham, red pepper, green onion, baking powder, thyme, sugar, salt and pepper into a large bowl and stir to combine.
In a smaller bowl, whisk together the milk, oil and egg until completely blended, and then add to the bowl with the flour mixture. Sit the batter unit just combined and then transfer to the prepared muffin tin.
Top each muffin with some cheddar cheese and then place in the oven for 20 minutes, or until a toothpick inserted into the middle of a muffin tests clean.