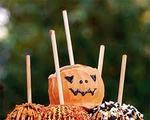 Prep: 15 min
Cook Time: –
Total: 15 min
Serving: 6
Fall means candy apples--everyone's favorite Halloween treat! Save a few bucks and make your own candy apples. If you don't care for nuts, try rolling the apples in peanut butter chips, mini-marshmallows or a candy topping of your choice.
Ingredients
6 apples (medium sized)
1 cup peanuts, chopped
2 cups milk chocolate chips
6 wooden craft sticks
1 tablespoon vegetable oil
Directions
Push a wooden craft stick onto the top of each apple. Then, place the chocolate chips and oil in a mixing bowl and melt in the microwave (about 3 minutes) or over a double boiler on the stove.
While that is melting, place the chopped peanuts or topping(s) of your choice in a separate bowl.
When chocolate is melted, gently roll each apple and coat completely. Sprinkle with topping(s). Chill in refrigerator to set chocolate.