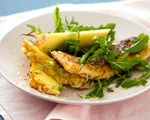 Prep: 15 min
Cook Time: 8 min
Total: 23 min
Serving: 4 Servings
Fillets of hake are dusted with smoked paprika and ground cumin, pan seared until crisp and then placed on a bed or arugula with fresh pineapple to make this delicious main dish meal.
Ingredients
2 tablespoons extra virgin olive oil
4 1/2-pound pieces fresh hake
2 tablespoons smoked paprika
1 tablespoon ground cumin
Sea salt and freshly ground black pepper, to taste
2 bunches Arugula, washed and dried
1 pineapple, cut into thin wedges
2/3 cup fresh mint leaves, to serve
Zest of 1 lemon
Juice of 2 limes
1 tablespoon honey
2 tablespoons tequila
Directions
Place the lime juice, honey and tequila into a bowl and whisk vigorously until thoroughly blended. Remove 2 tablespoons of the dressing, set aside and then add the arugula to the bowl; toss to coat and then divide between 4 plates.
Place the olive oil into a large sauté pan. Once it begins to shimmer, sprinkle the hake with the paprika, cumin, salt and pepper and then place in the pan. Cook the fish for 4 minutes on each side and then transfer to the prepared plates to top the arugula salad.
Garnish the fish with the pineapple wedges, mint and lemon zest, and then drizzle with the reserved dressing. Serve immediately.