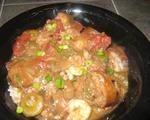 Prep: 15 min
Cook Time: 3 hr 30 min
Total: 3 hr 45 min
Serving: 10
Gumbo is a flavorful meal best served over rice.
Ingredients
3 large boneless skinless chicken breast halves
1/4 cup vegetable oil
1 pound smoked sausage, cut into 1/4-inch slices
1/2 cup all-purpose flour
5 tablespoons margarine
1 large onion, chopped
8 cloves garlic minced
1 green bell pepper, seeded and chopped
3 stalks celery, chopped
2 carrots, chopped
1 cup yellow corn
1/4 cup Worcestershire sauce
1/4 bunch parsley, coarsely chopped
Salt and pepper
4 cups hot water
5 beef bouillon cubes
1 (14-ounce can) stewed tomatoes with juice
2 cups frozen sliced okra
4 green onions, sliced
1/2 pound small shrimp, peeled, deveined and cooked
Directions
Heat the oil in a Dutch oven over medium-high heat. Season the chicken with salt and pepper and cook chicken until browned on both sides. Remove from Dutch oven and set aside.
Add the sausage and cook until browned, then remove.
Sprinkle the flour over the oil, add 2 tablespoons of margarine to make a roux and cook over medium heat. Stir constantly until brown for about 10 minutes. Let roux cool.
Adjust Dutch oven heat to low and melt remaining 3 tablespoons margarine. Add the onion, garlic, green pepper, carrots, corn, and celery and cook for 10 minutes. Add Worcestershire sauce, salt and pepper, to taste and the 1/4 bunch parsley. Cook for 10 minutes stirring frequently. Add 4 cups hot water and bouillon cubes, whisking constantly. Add the chicken and sausage. Bring mixture to a boil, then reduce heat and cover. Simmer for 45 minutes.
Lastly, add okra and tomatoes. Cover and continue to simmer for 1 hour. Just before serving add the green onions, shrimp and parsley.