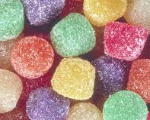 Prep: 24 hr
Cook Time: –
Total: 24 hr
Serving: serves 8
A sweet, creamy fruit salad
Ingredients
1 (20 ounce) can pineapple tidbits
1/4 cup sugar
2 tablespoons flour
1/4 teaspoon salt
3 tablespoons lemon juice
1 1/2 teaspoons vinegar
2 cups seedless grapes, halved
2 cups miniature white marshmallows
2/3 cup gumdrops, halved (do not use black)
1 (4 ounce) bottle maraschino cherries, drained and halved
1/4 cup chopped pecans
1 cup whipping cream, whipped
Directions
Drain the pineapple, be sure to reserve 1/3 cup of the juice.
Mix together the sugar, flour and salt. Stir in the reserved juice, lemon juice and vinegar. Cook, stirring constantly, over medium heat until thick and boiling. Keep over heat for 1 minute. Allow to cool.
Mix together the pineapple and other remaining ingredients, except the whipping cream.
Mix the whipped cream and cooked dressing together, fold into the fruit mixture. Cover and refrigerate.