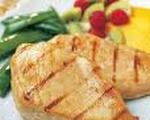 Prep: 30 min
Cook Time: 13 hr
Total: 13 hr 30 min
Serving: 4-6
Serve Guido's Chicken Italiano to your paisani and they'll say, "Molto Grazie!"
Ingredients
3 chicken cutlets, boned, skinned
2 cups fresh bread crumbs
2 cups Parmesan cheese, grated
1 tablespoon dry mustard
2 eggs, slightly beaten
1, 16 ounce jar marinara sauce
6 slices mozzarella cheese
1 tablespoon butter, melted
salt and pepper to taste
Directions
Divide whole breasts in half. Dip in eggs.
Mix together crumbs, Parmesan, salt, pepper and mustard. Dredge chicken breasts in mixture, coat well. Put in a baking pan and drizzle with melted butter.
Bake at 350 degrees F for 40 minutes until cutlets appear golden brown. Cover with mozzarella cheese and pour marinara sauce on top. Continue to bake until cheese is bubbly and sauce is hot.