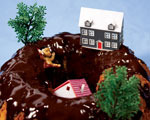 Prep: –
Cook Time: –
Total: –
Serving:
No matter where you go, the earth is bound to collapse beneath you and suck you into a Guatemalan-esque bottomless pit. Chasms are opening up everywhere and swallowing every conceivable thing, from your car and your city hall to Poland and the Mall of America. The only escape is to live aboard an ever-circling airplane. Just eat your Guatemalan Sinkhole Bundt Cake before your plane runs out of fuel.
From APOCALYPSE CAKES by Shannon O'Malley, Running Press, 2011
Ingredients
1-1/2 cup rice flour (not Asian)
2 teaspoons baking powder
1/2 teaspoon salt
3/8 pound plus 2 tablespoons (1-3/4 sticks) unsalted butter, softened
1-1/3 cup sugar
3 large eggs
1 cup farmer cheese, at room temperature
2 cups chocolate syrup
4 to 5 tasteless props
Directions
Preheat oven to 350 degrees F, with rack in middle. Grease Bundt pan.
Whisk together flour, baking powder, and salt in a bowl.
Beat together butter and sugar in a large bowl with an electric mixer until pale and fluffy, 2 to 3 minutes. Beat in eggs 1 at a time, beating well after each addition, then beat in cheese. Mix in flour mixture at low speed until just combined. Pour batter into Bundt pan.
Bake until pale golden and a wooden pick inserted in center of cake comes out clean, about 25 minutes.
Cool on a rack 15 minutes, then turn out onto rack and cool to just warm.
Decorate the Bundt cake with the chocolate syrup so as to accentuate the downward slope of its inner hole, and add tasteless props such as people, houses, etc.