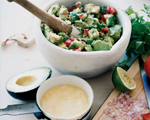 Prep: 20 min
Cook Time: 4 min
Total: 24 min
Serving: 8 Servings
What makes this guacamole different that the others is the melted Queso Oaxaca that is poured on top right before serving. Dig into this dip with some authentic tortilla chips.
Ingredients
2 Hass avocados, diced
1 medium tomato, diced
1/4 small red onion, minced
1/4 cup finely chopped cilantro
2 tablespoons finely chopped mint
1 jalapeño, seeded and minced
2 tablespoons fresh lime juice
Salt and freshly ground pepper
1 cup shredded queso oaxaca
Directions
Place the avocados, tomato, onion, cilantro, mint, jalapeño and lime juice into a medium bowl and then season with some salt and freshly ground pepper.
Stir the guacamole well to blend, and then transfer to a dip bowl.
Place the cheese in a small microwave-safe bowl, and microwave for 3-4 minutes or until melted.
Pour the melted cheese over the guacamole and serve immediately.