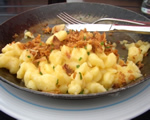 Prep: –
Cook Time: –
Total: –
Serving: Makes 6 servings
Ingredients
1 3/4 cups whole milk
4 large egg yolks
1 large whole egg
3 cups all-purpose flour
1/4 teaspoon freshly grated nutmeg
Salt and freshly ground black pepper
2 tablespoons peanut oil
1 tablespoon unsalted butter, cubed
1-1/2 cups shredded Gruyere cheese
1 medium white onion, thinly sliced
Directions
Whisk milk with egg yolks and whole egg in a small bowl. Combine flour, nutmeg, 1 teaspoon salt, and 1/4 teaspoon pepper in a separate large bowl. Add egg mixture to flour mixture, stirring with a wooden spoon, until well combined (do not over mix, a few lumps are fine). Cover bowl and chill for 1 hour.
Boil salted water in a large pot. Also, fill a large bowl with ice water. Add half of the batter to a colander with large holes. Hold colander over boiling water and press batter down with a spatula or spoon and let the batter drop into the boiling water (you may have to scrape the bottom of the colander to release the batter from the holes).
Repeat this until all of the batter has been used. Cook noodles for 2 minutes, then strain and place in the ice water. Gently mix noodles in water until the ice melts, then strain and place in a large bowl. Toss noodles with 1 tablespoon oil, salt and pepper.
Preheat oven to 400 degrees F. Place noodles in a casserole dish and top with butter and cheese. Bake for 20 minutes or until cheese has melted. Meanwhile, cook onions in 1 tablespoon oil for about 15 minutes or until golden brown. Top noodles with onions and serve immediately.