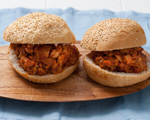 Prep: 10 min
Cook Time: 30 min
Total: 40 min
Serving: 6 Servings
Making Sloppy Joes with ground turkey cuts down on extra calories and fat without sacrificing taste.
Ingredients
2 tablespoons olive oil
1 large onion, chopped
1 rib celery, chopped
3 cloves garlic, finely chopped
2 pounds ground turkey
1 14- to 15-ounce can whole tomatoes in juice
1/3 cup Worcestershire sauce
2 tablespoons cider vinegar
1 teaspoon Tabasco, or to taste
6 hamburger buns, toasted
Directions
Place the oil into a large skillet or sauté pan over medium-heat.
When the oil begins to shimmer, add the onion, celery, garlic, 1 teaspoon salt, and 1/2 teaspoon pepper, and sauté for 6 minutes.
Stir in the ground turkey and break up any big lumps with a wooden spoon. Cook for 5 minutes.
In the meantime, place the tomatos, ketchup, Worcestershire sauce, vinegar, and Tabasco into a blender, and blend until smooth. Pour the mixture over the turkey and simmer for 15 minutes.
Season the turkey mixture with salt and pepper and then spoon into hamburger buns and serve.