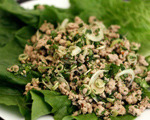 Prep: 15 min
Cook Time: 15 min
Total: 30 min
Serving: 4 Servings
A 'Laap,' considered the national dish of Laos, is a type of Laotian meat salad that is either made with beef, poultry, pork or fish. Enjoy this turkey version of the Laap as a flavorful lunch or dinner meal.
Ingredients
1 tablespoon long-grain white rice
1 tablespoon vegetable oil
1 pound ground turkey
1/4 cup plus 2 tablespoons chicken stock
1 tablespoon plus 1 teaspoon Asian fish sauce
Salt and freshly ground black pepper
1 tablespoon fresh lime juice
2 large stalks of lemongrass, pale inner core only, minced
2 scallions, thinly sliced
1 medium shallot, thinly sliced and separated into rings
1/2 cup chopped cilantro
1/2 cup chopped mint
1/4 teaspoon crushed red pepper
Lettuce leaves
Directions
Place the rice into a small sauté pan over high heat, and cook for 4 minutes, stirring frequently, until golden brown in color. Once cool, transfer the toasted rice to a spice grinder and process into a powder.
Put the oil into a large sauté pan over medium-high heat. Once it begins to shimmer, add the turkey and cook, stirring frequently, for 5 minutes. Stir in the chicken stock and bring the mixture to a simmer.
Remove the pan from the heat and add the fish sauce, the lime juice and a few pinches of salt and pepper. Stir well to combine and then let stand for 5 minutes to allow flavors to develop.
Add the lemongrass, scallions, shallot rings, cilantro, mint, crushed red pepper and rice powder to the mixture and mix well to blend.
Transfer the turkey Laap to a bed of lettuce leaves and serve immediately.