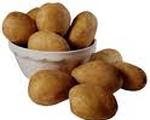 Prep: 30 min
Cook Time: 20 min
Total: 50 min
Serving: 4
Warm up from the cold with a hearty serving of Ground Beef Casserole topped with Tater Tots, a family favorite.
Ingredients
1 1/2 pounds ground beef
1 medium onion, chopped
1 can whole kernel corn, drained
1 can cut green beans, drained
1 can mushroom soup, undiluted
1 teaspoon salt
1/4 teaspoon pepper
3 tablespoons margarine
1 large bag Tater Tots
Directions
In a large frying pan, melt margarine. Add onion and partially cook. Add ground beef to the onions and saute until brown. Sprinkle with salt and pepper.
Place in a 3 quart greased casserole. Spread beans over beef, then corn over beans, spoon mushroom soup on top of corn. Place Tater Tots on top.
Bake at 425 degrees F for 20 minutes or until Tater Tots are cooked through.