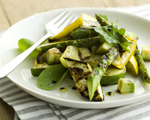 Prep: 10 min
Cook Time: 3 min
Total: 13 min
Serving: 4 Servings
This light salad is the perfect dish for entertaining with its crisp and fresh taste and beautiful shades of green presentation.
Ingredients
1 yellow summer squash, sliced lengthwise into 4 long pieces
1 zucchini, sliced lengthwise into 4 long pieces
10 spears baby asparagus, woody stem ends trimmed
Salt and freshly ground black pepper
5 teaspoons extra virgin olive oil plus more for brushing vegetables
2 tablespoons good-quality balsamic vinegar
1 small ripe avocado, peeled, pitted, and cut into a medium dice
2 cups baby arugula
Directions
Prepare a grill on medium high heat.
Brush the squash, zucchini and asparagus on both sides with olive oil, and then sprinkle with salt and pepper. Place the veggies on the grill for about 3 minutes, turning frequently to slightly char on all sides, and then transfer to a cutting board. Cut the vegetables into 1-inch pieces once cool enough to handle.
Place the balsamic vinegar and the 5 teaspoons of olive oil into a bowl and whisk to combine. Add the arugula and toss to coat then add the avocado and grilled vegetables and toss once again to combine. Season with a few pinches of salt and pepper and serve.