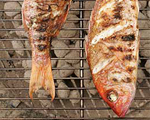 Prep: 15 min
Cook Time: 20 min
Total: 35 min
Serving: 4 Servings
The ginger and soy sauce adds a wonderful aromatic and spicy flavor to this grilled red snapper dish. The fish can also be broiled in the oven instead of grilled.
Ingredients
1 tablespoon grated peeled fresh ginger
1/2 cup dark soy sauce
3/4 cup coriander seeds
2 tablespoons crushed red pepper flakes
Salt and freshly ground black pepper to taste
2 red snapper, scaled, cleaned and patted dry
Directions
Place the ginger in a medium-sized bowl along with the soy sauce, and stir to combine. Set aside.
Using a small skillet, toast the coriander seeds and the red pepper flakes over medium-high heat until fragrant.
Transfer the spice mixture to a spice mill and grind. Add some salt and pepper and then spread the spice mixture on the inside and outside of the fish until well covered.
Grill the fish for about 9 minutes on each side, turning once. Serve immediately with the prepared ginger and soy sauce.