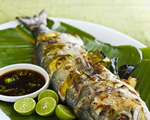 Prep: –
Cook Time: –
Total: –
Serving: Serves 4
Fish should be grilled on high heat for a few minutes per side. It can easily lose moisture, so only place it on the grill for a few minutes depending on thickness of the cut. A 1-inch thick piece of fish should be cooked about 8 minutes total, 4 minutes per side and an additional 8 minutes per every extra inch of thickness. A whole fish will usually take about 10 minutes per inch. You should, however, keep an eye on your fish just in case it cooks faster than expected.
Ingredients
2 whole red snappers, about 1 pound each, scaled and gutted
2 limes, sliced
1/2 cup fresh basil leaves
1 cup crumbled feta cheese
Extra virgin olive oil
Freshly ground sea salt
Freshly ground black pepper
Directions
Heat grill on high.
Make a slit in the side of each fish to make a pouch. Place lime slices, whole basil leaves, and feta in each pouch.
Brush fish with olive oil and season with salt and pepper.
Place fish on grill and cook about 6 to 8 minutes per side or until fish is cooked through.