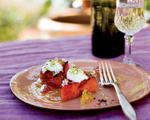 Prep: 15 min
Cook Time: 2 min
Total: 17 min
Serving: 8 servings
Top chef, Michael Psilakis, came up with this creative and delicious way to enjoy watermelon in the summer. Serve with a dollop of savory Greek yogurt sauce and enjoy this amazing dish.
Ingredients
1 cup plain whole-milk Greek yogurt or Homemade Greek Yogurt
2 tablespoons freshly squeezed lemon juice
1 tablespoon white wine vinegar
1 teaspoon coarsely chopped thyme
1 tablespoon extra-virgin olive oil, plus more for brushing and drizzling
Salt and freshly ground black pepper
12 3-inch-long triangles of seedless red watermelon, about 1 inch thick
1/4 cup small mint leaves
Directions
Prepare a grill on high heat.
Place the yogurt, lemon juice, vinegar, thyme, 1 tablespoon of olive oil and a few pinches of salt and pepper in a bowl and stir vigorously to blend. Set aside.
Lightly brush the watermelon on both sides with olive oil and then sprinkle with some salt and pepper. Place the watermelon on the grill and cook for 1 minute per side until slightly charred; transfer to serving plates.
Top the watermelon triangles with a dollop of the yogurt sauce and a grind of fresh pepper then drizzle with olive oil and sprinkle with the mint leaves. Serve immediately.