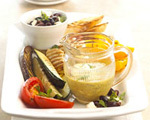 Prep: 20 min
Cook Time: 13 min
Total: 33 min
Serving: 8 servings
This platter of mixed grilled vegetable is a perfect centerpiece for an outdoor cocktail and appetizer party. Serve with a bottle of Sauvignon Blanc or Albarino.
Ingredients
4 cloves garlic, peeled
1/2 cup extra virgin olive oil
Salt and freshly ground pepper
8 3/4-inch slices crusty country bread
2 baby eggplants, quartered lengthwise
2 small zucchini, quartered lengthwise
2 small sweet yellow peppers, quartered lengthwise and seeded
4 large plum tomatoes, halved
1/2 cup pitted kalamata olives
1 tablespoon crumbled feta cheese
Fresh oregano sprigs
Greek vinaigrette to top
Directions
Prepare the grill on medium-high heat.
Place the garlic into a blender and chop.
With the motor running, slowly pour in the olive oil and blend until the mixture is smooth, scraping down the sides if necessary; set aside.
Brush both sides of the bread with the olive oil mixture and sprinkle with some salt and pepper.
Place all of the vegetables into a large bowl; add the olive oil mixture and a few sprinkles of salt and pepper. Toss to coat and then place on the grill for about 13 minutes. Add the bread to the grill during the last 4 minutes of grilling.
Place the vegetables and bread onto a serving platter and garnish with the olives and the feta cheese. Drizzle on some Greek vinaigrette and serve immediately.