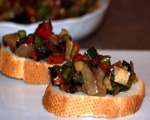 Prep: 15 min
Cook Time: 20 min
Total: 35 min
Serving: Serves 6-8 people
Grilled vegetable bruschetta is great during the summer season. Easy to make from seasonal vegetables and a great treat for your guests.
Ingredients
1/2 cup Italian dressing, plus a bit extra, reserved
4 medium bell peppers (mix yellow, red and orange), quartered
1 medium green zucchini, quartered lengthwise
1/2 tablespoon fresh basil, chopped
1/2 loaf (15-inches long) French bread, cut into 1/2-inch slices
Salt and pepper to taste
Directions
Add about 1/4 cup of the Italian dressing to a large plastic sandwich or freezer bag. Add the peppers and zucchini to the bag and close it. Massage the vegetables to coat them with the dressing. Refrigerate the vegetables to marinate in the dressing for about 15 minutes.
Brush the bread slices with a bit of the reserved Italian dressing. Grill the bread until it is just golden. Remove the vegetables from the marinade (reserve the marinade). Place the vegetables on a grill-proof cooking pan and grill them, turning and brushing them once with the reserved marinade, until they are soft (about 10-15 minutes). Allow the vegetables to cool, then chop them into small pieces.
In a medium-sized bowl, add the remaining 1/4 cup dressing, basil and salt and pepper. Stir in the vegetables and toss them to coat.
Spoon the vegetable mixture on the grilled bread and serve on a platter.