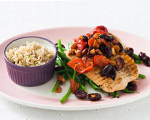 Prep: 10 min
Cook Time: 6 min
Total: 16 min
Serving: Make 4 Servings
This is definitely not your typical roasted turkey holiday dish. Enjoy this meal with a side of brown rice and steamed greens.
Ingredients
1/2 cup whole almonds with skin, coarsely chopped
1/2 teaspoon sweet smoked Spanish paprika (pimenton)
2 tablespoons extra-virgin olive oil
1/2 cup olives with pimento, rinsed and coarsely chopped
1 to 1-1/4 pound 1/4-inch thick turkey cutlets
Salt and freshly ground pepper
Directions
Cook the almonds, paprika and oil in a small skillet over medium heat for 5 minutes stirring frequently, then add the olives, stir and remove from the heat.
Season each turkey cutlet on both sides with some salt and pepper, and then place in a large heated sauté pan over medium high heat.
Cook the cutlets for 6 minutes, turning once, and then place on a serving platter. Spoon the olive and almond mixture on top of the cutlets and serve immediately.