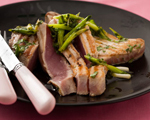 Prep: 20 min
Cook Time: 6 min
Total: 26 min
Serving: 4 Servings
A surprisingly quick dinner recipe that can be made in under 20 minutes, serve this dish with a side of brown rice and a glass of Merlot.
Ingredients
6 scallions, thinly sliced diagonally
1/4 cup finely chopped cilantro
1/3 cup extra-virgin olive oil
1 teaspoon grated lemon zest
2 tablespoons fresh lemon juice
1/2 teaspoon sugar
2 pounds tuna steaks (1-inch-thick)
3 tablespoons olive oil
Directions
Prepare the grill on medium-high heat.
Place the scallions, cilantro, 1/3 cup olive oil, lemon zest, lemon juice and sugar into a medium-sized bowl and stir to combine.
Season the sauce with salt and freshly ground pepper to taste.
Rub the tuna steaks with the 3 tablespoons of olive oil and then sprinkle with some salt and pepper.
Place the tuna on the grill and cook for 6 minutes, turning once, for medium-rare doneness.
Transfer the tuna to a cutting board, slice and serve with the scallion sauce.