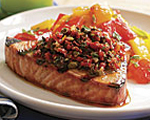 Prep: 25 min
Cook Time: 20 min
Total: 45 min
Serving: 4 Servings
The tuna in this recipe is grilled to perfection and then topped with a creamy butter and basil spread, followed by a sweet and savory red sauce. Just delicious!
Ingredients
For Butter & Basil:
3/4 cup fresh basil leaves
2 tablespoons butter, softened
1 tablespoon fresh lemon juice
1/4 teaspoon sea salt
2 garlic cloves, minced
For Tomato Sauce:
2 teaspoons olive oil
1/2 cup finely chopped red onion
2 garlic cloves, minced
3 cups grape or cherry tomatoes, halved
1/2 cup dry white wine
3 tablespoons capers
2 tablespoons balsamic vinegar
1/4 teaspoon sugar
1/4 cup chopped fresh flat-leaf parsley
For the Tuna:
4 (6-ounce) tuna steaks (about 1 inch thick)
1/2 teaspoon salt
1/4 teaspoon black pepper
Cooking spray
4 basil leaves (optional)
Directions
Prepare grill on medium-high heat and spray grill rack with cooking spray.
For the butter and basil, combine the basil leaves, butter, lemon juice, salt and garlic in a food processor and process until mixture is smooth and creamy.
In a medium-sized sauté pan, heat the oil over medium-high heat until hot but not smoking. Add the onion and the garlic and sauté, stirring frequently for 2-1/2 minutes and then add the tomatoes and cook for an additional 2 minutes.
Pour in the wine, capers, vinegar and sugar and turn up heat to high until mixture begins to boil. Reduce the heat and simmer the sauce for 5 minutes. Remove from heat and stir in the parsley.
Sprinkle the tuna with salt and pepper and grill for about 5 minutes on each side turning once. Place on a plate and spread with the butter and basil, then spoon on the red sauce. Serve immediately.