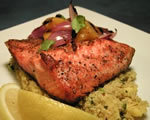 Prep: 10 min
Cook Time: 16 min
Total: 26 min
Serving: 6
This is one of my favorite Trout recipes.
Ingredients
6 pan dressed trout
1/4 cup butter
1/4 cup sesame seeds
1 1/2 tablespoons freshly squeezed lemon juice
1/2 teaspoon salt
1/4 teaspoon pepper
Directions
Thaw fish if frozen.
Clean, wash and dry fish.
Combine remaining ingredients in a bowl.
Place fish in well greased, hinged wire grills.
Baste fish with sauce.
Cook on a barbecue grill about 4 inches form moderately hot coals for 5 to 8 minutes.
Baste with remaining sauce.
Turn and cook 5 to 8 minutes longer.