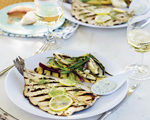 Prep: 10 min
Cook Time: 6 min
Total: 16 min
Serving: 4 Servings
Brushing the trout with this lemon and caper mayonnaise sauce prior to grilling keeps the fish moist and adds considerable flavor.
Ingredients
3 scallions, thinly sliced
2 tablespoons capers
2 tablespoons chopped parsley
1-1/2 tablespoons fresh lemon juice
1/2 teaspoon finely grated lemon zest
3/4 cup mayonnaise
Salt and freshly ground pepper
4 10-ounce boneless rainbow trout, heads and pin bones removed
Directions
Preheat your grill or grill pan on high heat.
Place the scallions, capers, parsley, lemon juice, lemon zest, mayonnaise and a few pinches of salt and pepper into a food processor. Blend the mixture until thoroughly combined.
Spread 1/2 tablespoon of the mayonnaise mixture onto both sides of the trout and then grill for 3 minutes on each side. Serve immediately with the remaining mayonnaise.