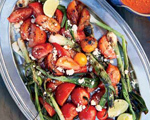 Prep: 10 min
Cook Time: 2 min
Total: 12 min
Serving: 10 Servings
This simple salad is made with grilled tomatoes and scallions drizzled with olive oil and fresh lime juice, and then sprinkled with crumbled cotija cheese. Serve as a side to grilled meat, poultry and fish.
Ingredients
8 tomatoes, cored and cut into 6 wedges
2 bunches of scallions
Sea salt and freshly ground pepper
3 tablespoons fresh lime juice
1/4 cup extra-virgin olive oil plus for brushing
2 cups crumbled cotija, about 4 ounces
Directions
Prepare a grill on high heat.
Brush the tomatoes and scallions with olive oil and then sprinkle generously with salt and fresh pepper. Place both vegetables onto the grill and cook for 1 minute per side, and then transfer to a serving platter.
Drizzle the tomatoes and scallions with the olive oil and the lime juice, and then top with the crumbled cotija. Serve immediately.