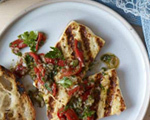 Prep: 10 min
Cook Time: 8 min
Total: 18 min
Serving: 4 Servings
This is a great way to cater to the vegetarians attending your next outdoor grill gathering. Grilled pieces of tofu topped with fresh tomato, piquillo peppers and caper salsa makes a delicious meal even your meat-eating friends may prefer.
Ingredients
8 jarred piquillo peppers, drained, rinsed and cut into 1/2-inch-thick strips
3 tablespoons capers, drained and coarsely chopped
3 tablespoons finely chopped flat-leaf parsley leaves
1 shallot, minced
1-1/2 tablespoons sherry vinegar
1/2 teaspoon ground cumin
pinch of cayenne
5 tablespoons extra-virgin olive oil
Sea salt and freshly ground pepper
18-ounce firm tofu, drained, patted dry and sliced into 8 rectangles
4 1/2-inch-thick slices of ciabatta
Directions
Preheat a grill on moderately high heat.
Place the piquillo pepper, capers, parsley, shallot, sherry vinegar, ground cumin, cayenne and 3 tablespoons of the olive oil in a bowl and stir well to combine. Add salt and pepper to taste and then set aside.
Brush the tofu and the bread slices on both sides with the remaining olive oil and then sprinkle with salt and pepper. Place the tofu on the grill and cook for about 3 minutes on each side, and grill the bread for 2 minutes flipping once.
Serve the grilled tofu on top of the bread and then spoon over the fresh salsa. Serve immediately.