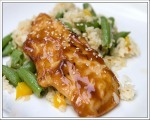 Prep: 24 hr 15 min
Cook Time: 15 min
Total: 24 hr 30 min
Serving: Serves 4 people
Seasoned -- and grilled -- to perfection, nothing says "delicious" like Grilled Teriyaki Chicken. Perfect year-round serve this with rice on the side, or even to top a green salad. Allow 24 hours to marinate.
Ingredients
4 skinless, boneless chicken breast halves
1 cup teriyaki sauce
1/2 cup lemon juice
2 teaspoons garlic, minced
2 teaspoons sesame oil
Black pepper to taste
Directions
Use a large, zippered plastic bag to season the chicken. To the bag, add the teriyaki sauce, lemon juice, garlic, oil, pepper and chicken. Seal up the bag and massage to coat the chicken. Keep the bag refrigerated for at least 24 hours, and turn it 2-4 times throughout the 24 hours.
Preheat your grill on high heat. Lightly oil the grill. Grill the chicken (discard remaining marinade) for 6-8 minutes on each side, or until juices run clear after piercing the chicken breasts. Serve with brown rice, or slice the chicken into strips and serve on top a green salad.