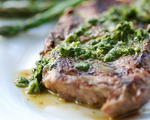 Prep: 1 hr
Cook Time: 6 min
Total: 1 hr 6 min
Serving: 4 Servings
A simple yet satisfying steak dish, use skirt steak which is both economical and quick to grill. The Chimichurrie sauce, made from a mix of finely chopped spices, adds fresh flavor and a slight touch of heat.
Ingredients
1 pound skirt steak
1/4 cup Worcestershire sauce
1/4 cup olive oil
2/3 cup sherry vinegar
3/4 cup fresh parsley, chopped
3 tablespoons fresh oregano, chopped
3 tablespoon fresh lemon juice
6 large cloves garlic, chopped
Salt & pepper
1 dash Sriracha sauce
Directions
Rinse the steaks and pat dry with a paper towel; sprinkle with salt and pepper.
Place 1/4 cup of Worcestershire in a bowl and add the steak. Marinate, covered, in the refrigerator for a minimum of 1 hour.
Meanwhile, mix the olive oil, sherry vinegar, parsley, oregano, lemon juice garlic, a pinch of salt and pepper and the Sriracha sauce in a small bowl. Set aside.
Prepare the grill on medium-high heat.
Grill the steaks on each side, flipping once, for 3 minutes to achieve a medium-rare doneness. Serve immediately with the Chimichurrie Sauce.