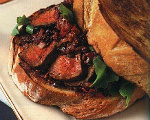 Prep: 10 min
Cook Time: 15 min
Total: 25 min
Serving: 6 servings
Grilled steak over French bread with sauce.
Ingredients
1 pound 1/4 inch thick round steak
Instant meat tenderizer
1/2 cup butter, melted
3 tablespoons bottled steak sauce
2 tablespoons sliced green onion
1 1/2 tablespoons Worcestershire sauce
1/4 teaspoon salt
6, 1-inch slices French bread
Directions
Cut the steak into 6 pieces and use the tenderizer according to the directions.
Preheat the griddle to 400 degrees Fahrenheit and lightly grease. Grill the meat for 2-3 minutes per side, adding pepper as it cooks.
Heat the remaining ingredients, except the toast, to make a sauce. Toast the French bread slices.
When ready to serve, dip the bread in the sauce and serve topped with steak. Spoon sauce over the steak as well.