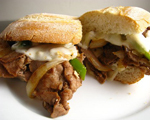 Prep: 20 min
Cook Time: 15 min
Total: 35 min
Serving: 6 Servings
Craving a giant steak bomb sandwich with all the trimmings? Try this recipe which tops skirt steak with grilled onions, peppers and mushrooms on a toasted ciabatta loaf.
Ingredients
2/3 cup mayonnaise
1-1/2 tablespoons red wine vinegar
1 tablespoon chopped fresh oregano
1 tablespoon chopped fresh basil
1 small garlic clove, pressed
1, 1-pound loaf ciabatta, halved horizontally
3 medium Portobello mushrooms, brushed, and sliced
2 small red bell peppers, quartered lengthwise
1 large red onion, cut into 1/3-inch rounds
1-1/2 pounds skirt steak, cut crosswise into 6-inch pieces
Olive oil (for brushing)
6 slices extra sharp cheddar cheese
Directions
Prepare the BBQ on high heat.
In a small bowl, mix the mayonnaise, vinegar, oregano, basil and garlic together with a wire whisk.
Hollow out the loaf by removing some of the bread.
Place the vegetables, steak and the bread (cut side up) on a platter. Brush all ingredients with olive oil and sprinkle with salt and pepper.
Grill the vegetables until just tender and slightly charred about 5 minutes. Grill the steak strips for about 3 minutes per side until medium-rare.
While letting the steak sit for 5 minutes, toast the bread, cut side down, for approximately 3 minutes.
Generously spread the mayonnaise mixture on each side of the bread, then fill with slices of steak, grilled vegetables and sliced cheese. Cut into 6 sandwiches and serve.