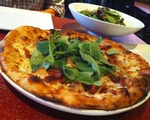 Prep: –
Cook Time: –
Total: –
Serving: Makes 1 pizza
Grilled pizzas make for a special summer meal - that crisp smoky-flavored crust, the gooey bubbling cheese - that rivals the usual burgers and dogs. Recipes adapted from Pizza: Grill It, Bake It, Love It!
Ingredients
1 pound fresh or frozen pizza dough
3 tablespoons olive oil
1/2 teaspoon freshly ground black pepper
8 ounces sirloin steak, trimmed
6 tablespoons homemade or store-bought low-oil pesto
1/2 cup finely shredded Asiago
1 tablespoon balsamic vinegar
1/2 teaspoon salt
4 cups packed chopped arugula
Directions
Preheat pizza stone on a gas grill at medium, indirect heat (about 400 degrees F.) or over an indirect, medium-heat coal bed in a charcoal grill for 30 to 45 minutes. Dust a pizza peel with flour. Form dough into a large circle until it is 14 inches in diameter and set it floured-side down on the peel.
Slide dough from the peel onto the very hot pizza stone and grill with the lid closed until lightly browned, about 12 minutes. Air bubbles may arise over the crust while it bakes, pop these with a fork to assure an even crust. Slide the peel back under the crust to get it off the stone and transfer to a wire rack.
While the crust cools slightly, rub 1 tablespoon of olive oil and the pepper into the sirloin. Grill steak directly over the heat until seared on the outside but still quite red and raw in the middle, 1 to 2 minutes per side. Transfer to a cutting board.
Spread pesto evenly over the crust, leaving a 1/2-inch border at its edge. Top with sun-dried tomatoes. Slice steak into thin strips across the grain and lay strips over the pizza. Top with Asiago. Slide pizza onto peel and then onto heated stone on the grill. Grill with lid closed until cheese has melted and the steak is sizzling, about 10 minutes.
Slide peel back under pizza and set it aside. Whisk vinegar, salt and remaining 2 tablespoons olive oil in a large bowl. Add arugula and toss to coat. Mound on top of the pizza, then slice into wedges to serve.