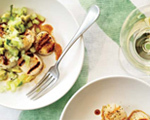 Prep: 10 min
Cook Time: 7 min
Total: 17 min
Serving: 4 Servings
Because scallops have a mild flavor it is a good idea to pair them with a bright and citrusy component like this sweet and tart fresh salsa.
Ingredients
Finely grated lime zest, plus 2 tablespoons fresh lime juice
1 tablespoon extra-virgin olive oil, plus more for drizzling and brushing
1-1/2 pounds honeydew melon, rind removed and melon cut into 1/4-inch dice 2-1/2 cups
1 Hass avocado, cut into 1/4-inch dice
Salt and freshly ground black pepper
2 pounds large sea scallops
Directions
Prepare a grill on moderate heat.
Place the lime zest, lime juice and 1 tablespoon of olive oil into a bowl and whisk together until blended.
Gently fold in the honeydew melon and the avocado, and then sprinkle with a few pinches of salt and pepper. Cover the bowl and set aside.
Brush the scallops on both sides with some oil and then sprinkle with some salt and pepper. Place the seasoned scallops onto the grill and cook for 3-1/2 minutes per side, turning once.
Arrange the grilled scallops onto a plate and top with the salsa. Serve immediately.