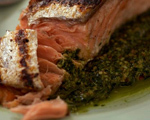 Prep: 15 min
Cook Time: 7 min
Total: 22 min
Serving: 4 Servings
Crispy grilled salmon is topped with a fresh cilantro and creamy pecan pesto that adds bright and intense flavor to this delicious dinner dish.
Ingredients
1/3 cup pecans, lightly toasted and chopped
2-1/2 cups lightly packed cilantro
1/3 cup freshly grated Parmigiano-Reggiano cheese
1/4 cup chicken stock or low-sodium broth
1 tablespoon sherry vinegar
1/4 cup extra-virgin olive oil
Sea salt and freshly ground pepper
4 6- to 7-ounce salmon fillets, with skin
Directions
Oil the grates on a grill and then heat the grill to medium-high heat.
Place the pecans, cilantro, cheese, stock and vinegar into a food processor and process until smooth. With the motor running, slowly pour the olive oil down the processor flute and continue to puree the mixture until thoroughly blended. Season to taste with few pinches of salt and pepper and then set aside.
Place the salmon fillets on the grill, skin side down, and cook for 4 minutes. Gently flip the fish and cook for an additional 3 minutes on the other side.
Spoon some pesto onto a plate and then top with the fish. Serve immediately.